Old Legs Cycle For Charity - Silverback Tour 2021
Billy Prentice from Carlsbad,CA, will be representing the USA on this incredible cycle tour to raise money for destitute pensioners in Zimbabwe.
Please support Billy and the Tour via his GoFundMe page here: www.gofundme.com/f/william-prentice-the-old-legs
Read more about the Tour below.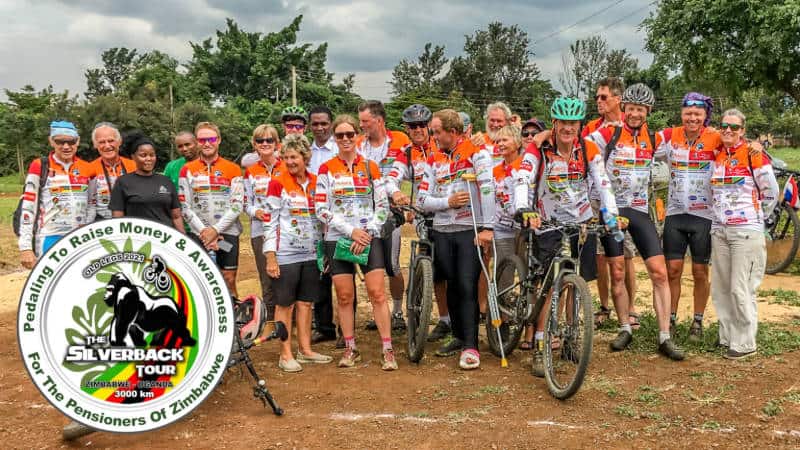 Old Legs Cycle For Charity - Silverback Tour 2021
This year The Old Legs will cycle for charity in our toughest Tour yet to raise money for Zimbabwe pensioners ; the Silverback Tour, which will take us 3,000 km from Harare to Uganda's impenetrable forest to find the gorillas in the mist.
Eric de Jong, tour organiser, writes:>
We will be on the road for 30 days and 3,020 km, climbing 36,000 meters, riding through Africa's wildest and most rugged parts.
The oldest member of our riding group will be 72, living proof that you are never too old to do epic.
We will be 10 riders with 6 support team members, including 2 photographers tasked with capturing every gruelling kilometre. Our route will take us through Zambia, Tanzania, Rwanda and Uganda.
We'll ride through Zambia's iconic Luangwa National Park, through Chief Chitambo's village where the heart of David Livingstone is buried, and on to Ujiji where Stanley spoke those words "Dr Livingstone I presume."
We'll ride alongside Lake Victoria in Tanzania, through the hills and past the volcanic lakes of Rwanda and finally on to Uganda's Impenetrable Forest and the gorillas.
(As I type, half of me is thinking it is not a clever idea to ride 3,000 km plus many hills to get up close and personal with animals that I will no doubt be very scared of.)
Please join us on our adventure. Follow us up through Africa on www.oldlegstour.co.zw and on Facebook. But please be warned, we ride slower than paint dries.