ZANE Clubfoot Program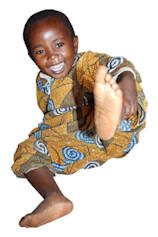 There are up to 14,000 cases of untreated clubfoot in Zimbabwe.
Clubfoot is a congenital deformity that severely twists the foot, making it painful and almost impossible to walk.

Without treatment, thousands of children will continue to suffer with little hope of a productive life. Today there are approximately 6 million teens and adults worldwide with a severe disability that could have been prevented if they had been treated as a child.
If recognised and treated as an infant, Clubfoot can be cured using the Ponseti Method. This involves the careful manipulation of the foot and plaster casting over a period of 4-6 weeks. Once full correction is achieved, the child needs to wear a brace for a short period while the foot adapts to its new position.
Medical technicians trained in the method are able to treat and cure infants without expensive surgery, frightening hospital stays and using it minimises any risk of painful infection or scar tissue.
ZANE has established a clubfoot project in Zimbabwe and sent out a team of specialists from the UK to train Zimbabwe doctors, nurses and health workers in the Ponseti method.
Update May 2022
ZANE - along with partners - has continued to fund the Club Foot correction programme, and consequently thirteen treatment centres have been established and over 4,500 children have received treatment to date.
Below is an email of thanks received after the initial training visit:
A very brief email to send a very BIG Thank You!!


We want to express our gratitude for your help in making this last week, a memorable one for all kids with Clubfoot in Zimbabwe.

(The ZANE medical team) delivered two excellent 2 day courses on the management of Clubfoot using the Ponseti method. One in Harare and the other in Bulawayo as planned. We had an excellent turn out at both venues, with some fairly influential people attending, including the CEO of United Bulawayo Hospital, the Clinical Director of Parirenyatwa hospital, Harare, the Dean of Medicine at the National University for Sciences and Technology, 3 out of 5 Harare Orthopaedic Surgeons and 3 out of 5 Bulawayo based Orthopaedic surgeons to name a few.

The course was fantastic and very well received at both venues after some initial scepticism in Harare. I think that we have made quite some impact with these courses, and the results will be far reaching.

The touring faculty were brilliant, really knew their stuff and presented it all in a great manner that was fitting to the Zim environment ... I think our visitors have all returned home with fond memories of the people and their trip to Zim, despite the very tight and busy Schedule.

None of this would have happened without your support in terms of Flights and funds. Thank you very very much, we've a long way to go but we have had a great start thanks to your generous contributions. Thank You.

All the best from sunny Zimbabwe.
To ensure that this strategic work continues, please donate today.