ZANE Education Program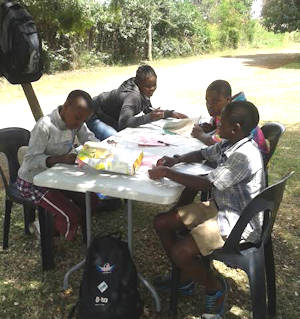 ZANE pop-up Classes
ZANE runs nine pop-up classes in a township in Harare, for 108 children. The children are from impoverished families and range in age from 6-12; only a handful have previously attended school. The classes are run by women from the same local community; women ZANE has worked with over several years through its creative therapy programme. They have been empowered to take control of the classes, teaching basic numeracy and literacy, song, dance, physical education, bible studies and an increasing number of subjects. The children are also taught farming techniques enabling them to grow food for their families.
These children would not otherwise be receiving any form of education. Many of them have made such progress they are now attending mainstream school. As important as preparing the children for school, the pop-up classes provide a safe, secure environment. The classes build their confidence, make them feel valued and show them love and compassion. For most, the pop-up classes provide a refuge from their often chaotic home lives.
Crucially, ZANE also provides a hot meal each day; for most, their only meal of the day. Each child also receives a nutritious food supplement.
To ensure that ZANE's essential work continues, please donate today.